Course details
Our Practitioners' Course will enable you to practice as a mesmerist. For a full prospectus  email james.pool@mesmerism.com
Mesmerism is the basis of all hypnotherapy.
Some people think mesmerism is just another hypnotic technique or is just about "ancient" history. Although everyone would agree Henry Ford was a great pioneer of the automobile industry no one would want to drive around in a Model T today. The first cars were open, uncomfortable and slow. Nor would you want an airplane built by the Wright brothers as technology has moved on.
However, hypnotherapy is different, there have been few significant changes in the last 150 years. All the basic hypnotic phenomena like amnesia, anesthesia and hallucinations, were known to the old Mesmerists.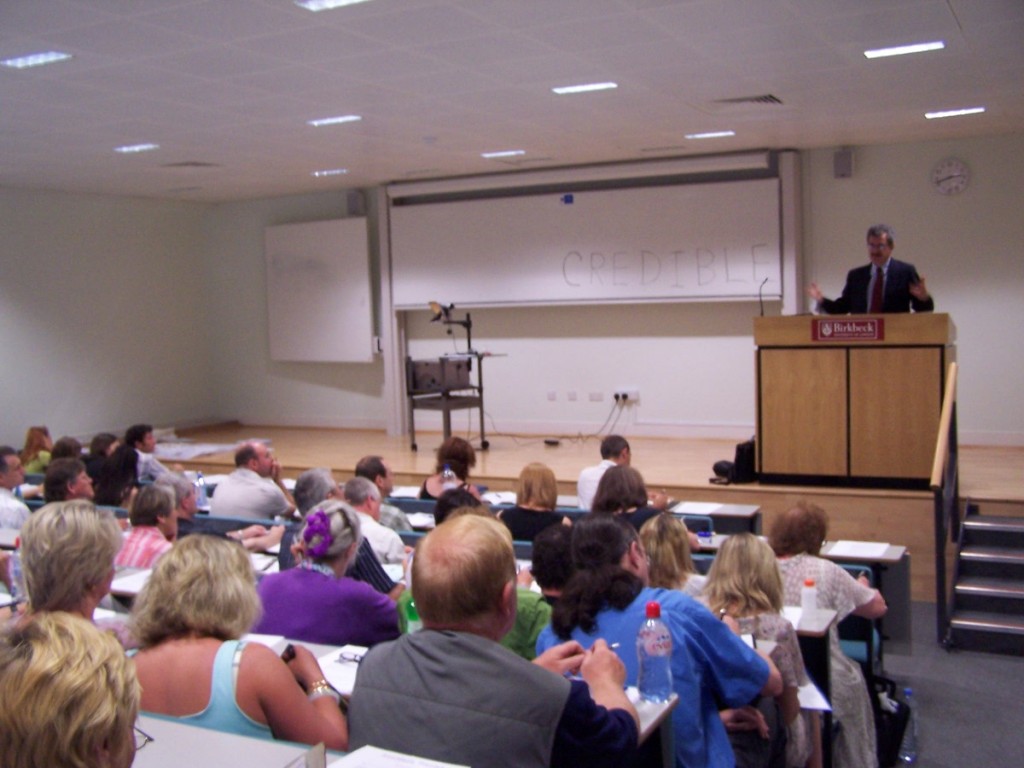 James Pool lecturing at Birkbeck University, London
It was Mesmer who made the great discovery that forever changed the history of medicine and our understanding of the mind. True, trance had been known since ancient times but no one had developed a scientific method of teaching it's use to others, analyzing and describing it's components and using it to treat most illnesses.
Mesmer could rightly be classified along with Christopher Columbus as the discoverer of a new world, the world of the inner (unconscious) mind. Mesmer was also an extremely successful doctor and therapist. There are well-documented cases of many seemingly incurable patients who Mesmer cured with mesmerism.
James Pool's courses on mesmerism focus on teaching you a proven technique and giving extensive demonstrations so you clearly understand how to do it yourself. There is also plenty of time devoted to supervised practice, because mesmerism is a bit like learning to ride a bicycle. If you only study case histories and see the instructor performing the technique, you won't have the confidence to do it yourself.
One of the unique things about the Mesmerism Practitioner Course is that it includes the techniques developed by Charles Dickens. Dickens studied with Mesmerism with Dr. Ellitson and Dupotet and then experimented for a number of years. Major biographers of Dickens have tried to censor or minimize his involvement with mesmerism. Nevertheless, there are clear references to Mesmerism in most of his major works. Pool spent years researching Dickens use of mesmerism in the British Library, the Wellcome Medical library and the National Archives.
Practitioner Training Prospectus
Mesmer's teachings offer a unique opportunity for hypnotherapists to dramatically improve their success rate and treat illnesses by studying mesmerism.
We are delighted to announce that James Pool is now taking students for his full one year Mesmerism Practitioner course commencing in June 2015.
Contact us for a free prospectus which gives full details of the 5-day intensive seminar that is at the heart of the one year course. In actual fact, the practitioner course (combined with the 2-day how to mesmerize course and the monthly Skype training and mentoring) is a one year course that qualifies you to practice as a mesmerist.
Among the benefits you'll have on the course are:
Monthly Skype training sessions.
Supervised recommended reading with personal advice on study material
Private career counseling on how to develop a successful 'Mesmerism Practice'.
Mesmerism is the basis of all hypnotherapy. Learning about mesmerism will give you a new unique perspective on hypnosis. Having a full year for our study will enable us to clearly see the differences between mesmerism and hypnosis and why the hypnotic techniques of today are NOT as strong as they were 50 years ago.
We will be covering some exciting topics in the Skype sessions. We will review and critique a Mesmer Movie and learn about his personal life, which is vital because you need to be able to feel Mesmer's enthusiasm, dedication and determination in your practice.
Mesmer knew he had made discovery of something that could change the world, and end much of the human suffering. He was compelled by his strong sense of empathy for people to help. He reached great success but ultimately Mesmerism was suppressed.
However, drug based medicine and psychology have failed to deliver the miracle cures promised. The side effects of the drugs are worse than ever.
We must take up this mission where Mesmer and his early disciples left off. This is your chance to become part of the first group of well-trained mesmerists in Britain in one hundred years, at a time when interest in mesmerism is rapidly reawakening.
Having done research at Meersburg where Mesmer died and near where he was born, James has some exciting stories about the mystical natural environment around Lake Constance. The unusual weather and nature here may have given Mesmer some of his ideas. The lighting over the lake in late summer and the autumn fog makes the energy in the atmosphere more visible than most other places. On certain nights when the weather is changing the air seems to be charged with static electricity. We will talk about these topics and how they relate to Mesmer's discoveries during the Skype sessions.
The 2-day training begins in June directly followed by a two weekend (5 days) intensive course…which you should be well prepared for after 5-months of supervised study.
At the conclusion of the 5-day course you will receive your Diploma but will have several months of supervision with your clients. You will also need to write a case-history of your first clients. All this is to make certain that you are fully qualified and comfortable working with clients. Having studied Mesmerism for a year, this will set you apart from so many hypnotherapists who think they can practice after taking a two or three day course.
You will receive a certificate after the 2-day course but this does not qualify you to practice on paying clients until you take the Practitioner's Course.
Therapists who have not yet taken the 2-day "How to Mesmerise" course can sign up for both the 5-day Practitioner's Course and the two day course and start the Skype training in January without missing anything.
Not everyone will be suitable for the course, and there will be a strict selection process to ensure we only train the right people. It is very important as this is an incredibly powerful phenomenon to keep the energy right within the group, and the course will close when James feels the energy of the group is balanced.
If you are interested in training to become a Mesmerism Practitioner, and to obtain a full course prospectus free of charge and without obligation, please contact James Pool at james.pool@mesmerism.com or call +44 (0)20 7702 4900